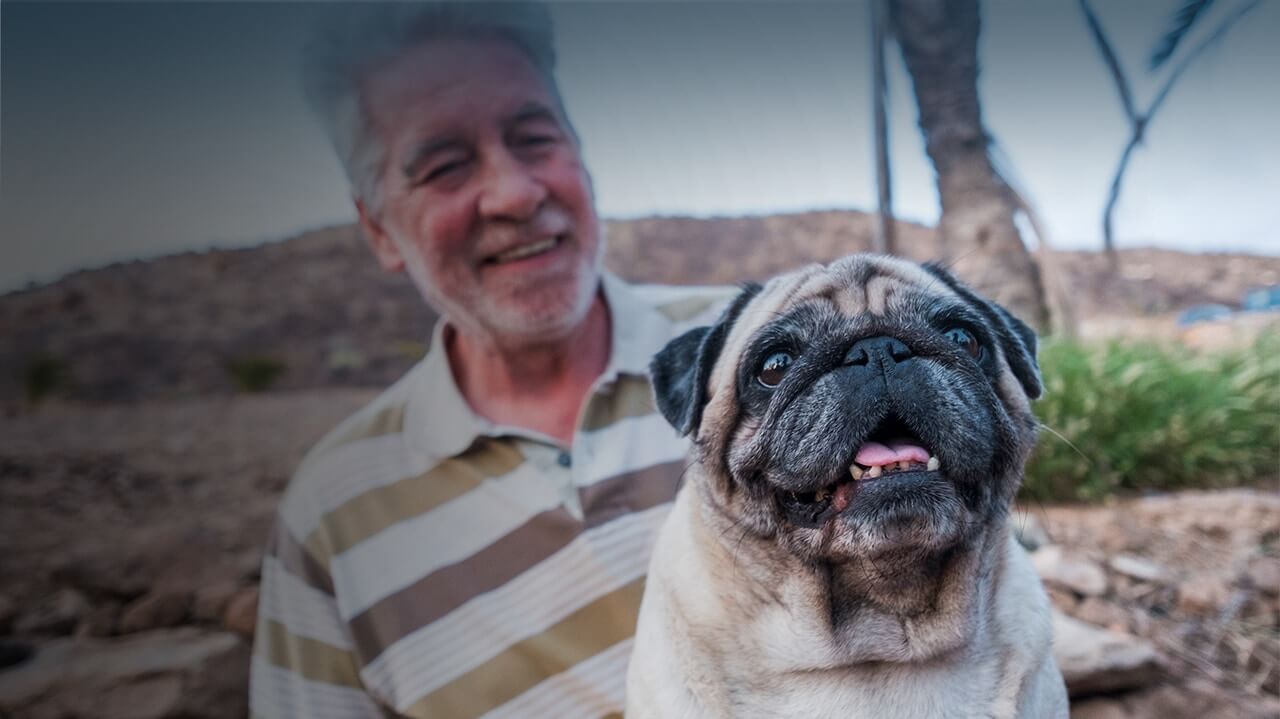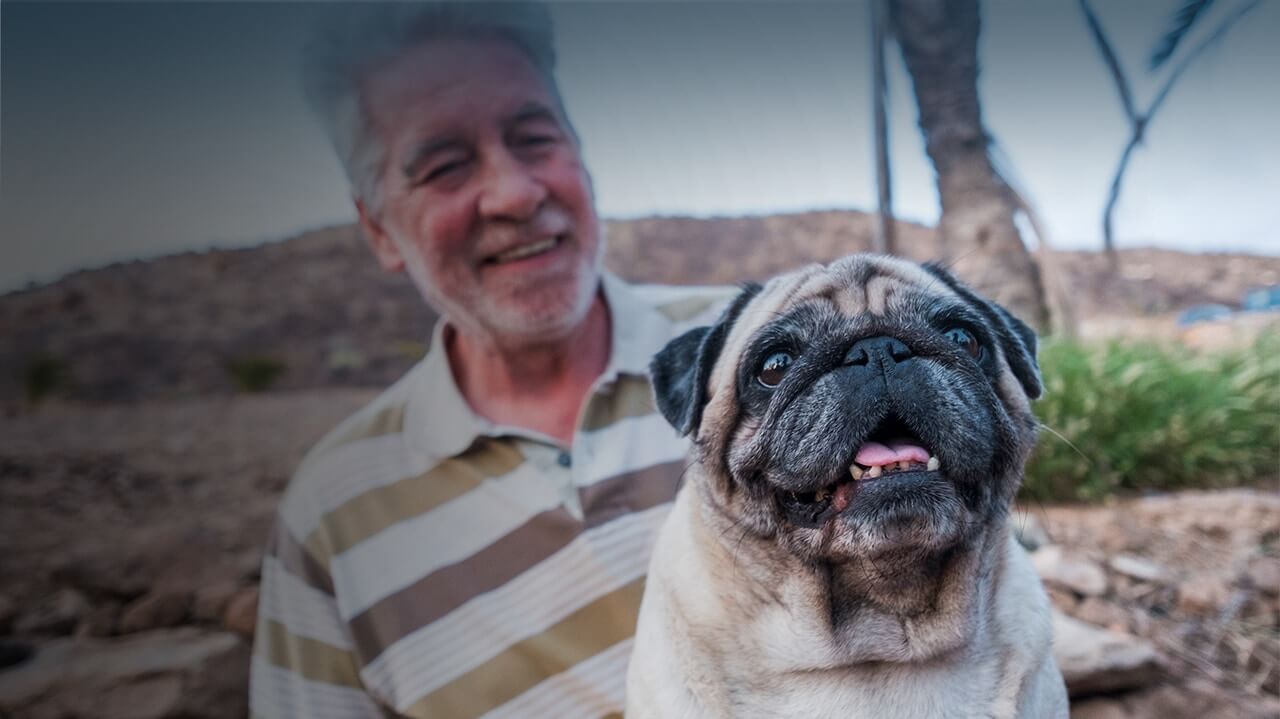 LIVING WITH DIABETES
Vernon and Kujo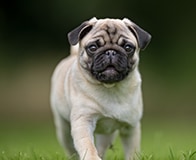 Real-life owners talk about living with
their diabetic pets >
Vernon and Kujo
Possessing a sweet personality, Kujo the Pug has been Vernon Carter's best little buddy for the past 12 years.
"He doesn't have a mean bone in his body," says Vernon, of San Juan Capistrano, California. "My sister has Kujo's sister, Kagi, who's 6 months younger than Kujo. They're from the same parents but different litters."
And both dogs are dealing with the same health challenge: diabetes mellitus.
A year ago, Kujo became very lethargic and began drinking a lot of water.
"Because at that point, Kagi had been diabetic for 3 years, I recognized the signs and knew what the diagnosis would be before I took Kujo to the veterinarian," recalls Vernon.
But Vernon wanted to avoid some of the ongoing difficulties his sister faced with Kagi.
"Her dog was receiving human insulin and the blood glucose concentrations were not well regulated," Vernon explains. "There were many nights where we had to rush Kagi to the emergency room. In fact, one emergency room doctor advised putting Kagi to sleep. Friends of mine who also had a diabetic dog recommended a veterinarian who prescribed a porcine insulin zinc suspension. I decided using insulin formulated specifically for dogs made more sense than using a human product."
Vernon is pleased with that decision.
"I collect Kujo's urine twice a day, before breakfast and dinner, then check it with test strips and give his dose of injectable insulin. I had to learn how to give shots," says Vernon, in explaining the steps he now must take to monitor his pet. "But now that we're both used to the process, Kujo comes and sits for his shots, then he gets a little treat afterwards."
On the subject of treats, Vernon has had to alter Kujo's diet, too.
"He gets some treats, but I watch the content and amount. I couldn't cut him off completely," he admits. "He still gets two cashews a day. And an occasional dog biscuit."
At 12 years of age, Kujo would be slowing down even without diabetes or his other health challenges. Besides being deaf, Kujo has allergies and heart problems, as well as cataracts, which are clouding his vision. But Vernon remains resolute.
"I made a commitment to Kujo when he came to live with me," he says.
"Diabetes is a life-altering condition for humans and dogs, but it's manageable, and it doesn't mean Kujo can't enjoy life. I'll take care of him for as long as he wants to keep going and I can give him a good quality of life. Kujo is family.
SUPPORT AND SHARE
Take Part in #PetDiabetesMonth
Help raise awareness and support for pet diabetes by sharing your photos and stories with others.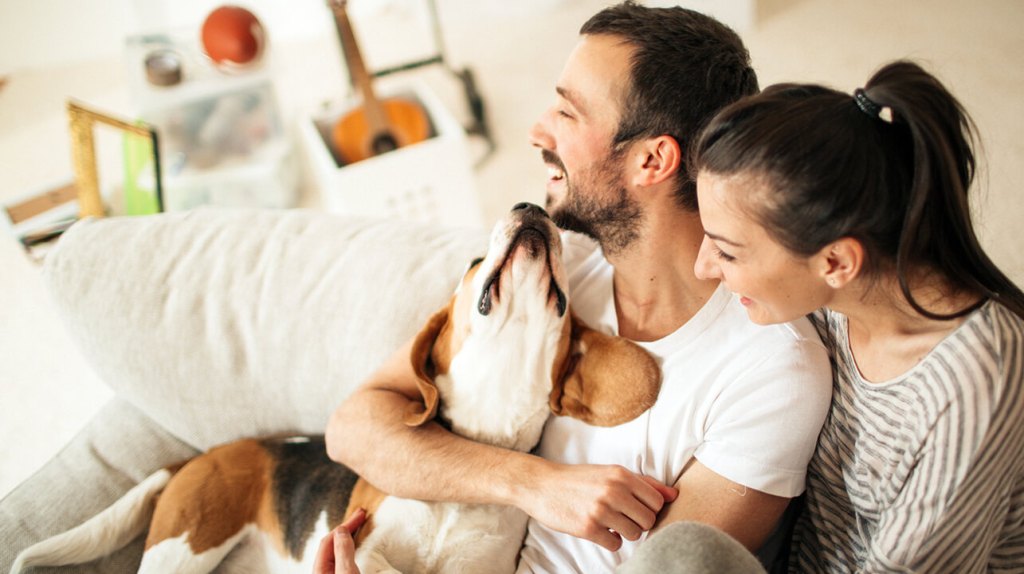 PETCARE ALLIANCE PARTNERS
---
Pet Diabetes Month is the property of Intervet Inc., d/b/a Merck Animal Health, a subsidiary of Merck & Co., Inc. or affiliated companies or licensors and is protected by copyrights, trademark and other intellectual property laws.
AlphaTrak 2 is a registered trademark of Zoetis Belgium S.A. and the Zoetis logo is a registered trademark of Zoetis Services, LLC.
Purina Pro Plan Veterinary Diets is a registered trademark of Societe des Produits Nestle S.A.
Vetsulin is a registered trademark of Intervet Inc.